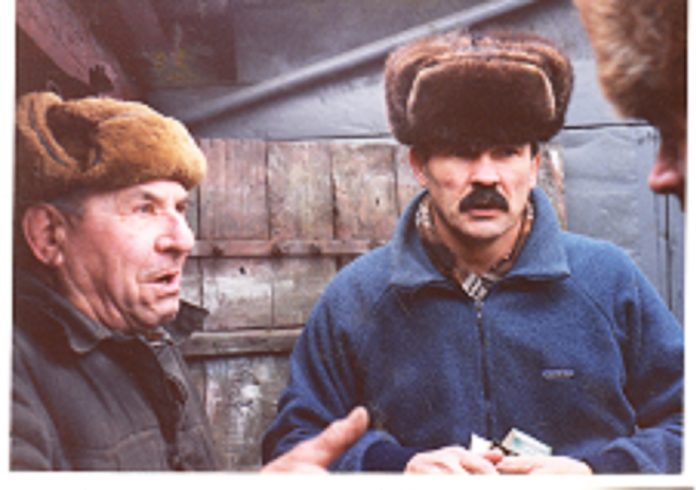 In the 1960s I earned a minor in Russian Studies at university which interestingly enough, provided me with a lot of background to what I would observe when I visited Ukraine and central Russia in 1991 and 1992, when the USSR was finally cashing in its chips.
In 1942 America turned around and found Stalin and the USSR as allies in the war with Hitler's Nazi Germany. They didn't like us and we didn't like them…especially Josef Stalin. So for marketing purposes both sides sent legations to make both the Russian and American people appear to be nicer than years of propaganda had made them seem.
I'm not sure what the US sent to Russia to showcase our good nature, but the Russians sent choirs, using the only open port in the Soviet Union, Murmansk, in their north, where we sent supplies in their war effort to get supplies from the West. (One of the coal miners in my town was a merchant marine and had made the Murmansk run on several occasions, the last time in '44, when his vessel was sunk, and he and he some mates had to work their way across France to England.) My dad, a veteran of North Africa and Italy for 2 1/2 years, and later a VFW commander, said he never liked to talk about it.
But the Sveshnikov Choir (here) was one of those groups that traveled America singing their songs, and when their album was reprinted in the 60's I bought it.
Most of their songs sounded like dirges at funerals, and with a heavy religious theme. But what I learned about them in college, after reading a book by an Englishman who visited Russia in the late 1800's, and who traveled the back country east of Moscow, was that this sombre music wasn't religious at all. For one, Stalin and communists frowned on religious music. But the life of village people throughout Russia was one of dreary lives in "mirs" or villages fed by farmers, no different than the Middle Ages in Europe. Hard lives.
And the central person in each village was the Orthodox priest. In 1964 the musical play "Fiddler on the Roof" became popular, followed by the film version and I saw the play at Camp Zama in Japan, Tevye played by an aide to our 3-star general, LTC Sam Malave-Garcia, who is still alive.
When I was in Ukraine, my handler and what would later become known as the oligarch-agent, took me to a farmer on a collective on the Russian border. He had dug up a BMW German motorcycle with a side-seat, restored it and wanted help to sell it.
I went to visit him twice. His restoration over 10 years, and he told me thru my interpreter that he wanted USD 2500. (see photo). Plus shipping. It was easy to find a buyer (in Texas) and I even forgave my commission. The deal would pass thru the hands of my bank-fixer and others, who would take care of the shipping, but if this old man was able to keep even 50% of the sales price it would be the equivalent of winning a lottery. They showed me how they would ship the bike, not out of Odessa, but by truck to a Baltic port.
The buyer did get the motorcycle, I just hope the farmer got his fair share.