Once again, you'd have to be the age of Baby Boomer, or maybe even older, as my sister, who turns 79 this October, to appreciate the clean humor of "Bloopers", a term created by a radio and television producer named Kermit Schafer, who began collecting them in the 1950s.
It all began when radio announcer Harry Von Zell, (who again, you'd have to be a fan of the old George Burns and Gracie Allen radio and TV show,  to recall his name and face) who, in 1931, mispronounced or said the name of the then-President of the United States, Herbert Hoover, as "Hoobert Heever".
Look Schafer or the Pardon my Blooper meme up on Google or YouTube and see or hear a lot of those.
The first LP came out in 1954 and the paper back in 1957. It was in print into the 1970s.
I would have been 15 of 16 when I read it, and like everything at that age, I looked up the salacious or just a wee-bit raunchy, captions, as this radio announcement from Iowa radio about a Future Farmers Fair:
Impossible to read from the photo made available, it reads something like this:
"And at the FFA County Fair Miss Betsy Smith won the Blue Ribbon for Best Hoer."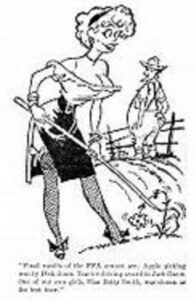 Only it was read on the radio.
Ooops.
Schafer's artists tried to capture that image for little 15 year-olds like me who had heard the word but was never sure what a "hoer" actually looked like in 1957.
So looking back, I know World War II veterans would have sniggered if in mixed company, and my other mother would have whispered "Oh, my."
But what would the Woke Community say today….especially about this mockery being tossed about "pleasure workers"?
For fun, here's a sample.
https://youtu.be/b45Gegq1slE,