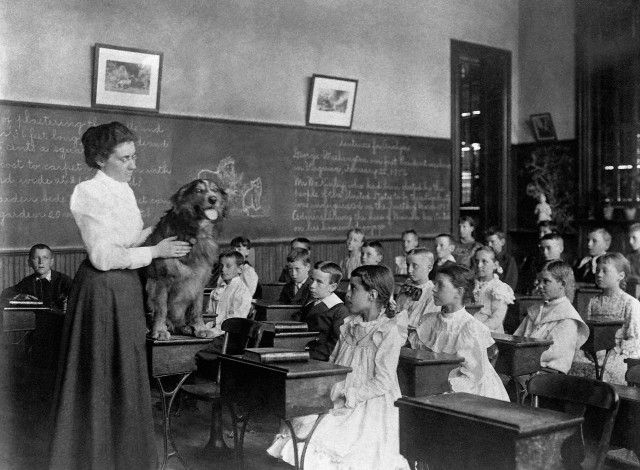 There are actually several stories found here, all of which are pertinent to the matters of just what this coming election is all about.
Believe it or not, this story is about why we fight today.
First, the lady who wrote these stories was the Principal of Mary B West Special School in Memphis in 1913. There is no mention of this school on Google, and no description of just what a "special school" meant in Tennessee in those days…Private school? Public school? Special education-needs? I'm guessing "private school".
Second, these stories were all meant to be read to the students by a teacher, which was a common practice that goes back over a century, and in my school, up through 6th Grade. And from the subject matter I'm guessing these children would have been 8 to 10 years old, taking only a few minutes to read, with time left over to discuss the story. (If you ever attended Sunday School you'll recognize the format because this was how a Bible lesson was taught, usually 10 minutes of Scripture, and the remainder of the hour for teacher-led discussion.)
I'm guessing that 8-10 age range because this is where churches knew decades before public schools became universal, that kids' minds were blank slates but with an eagerness to learn insatiable…if taught properly. This is the age when kids' minds are formed, whether it be "honor", love of country, or OK for Debbie to have two daddies. As long as "the people" were in charge of their public schools at the local level (through the 1950s) love of flag and country were taught, joined at the hip, and wedded by a common morality, found in local churches.
Mabel Lee Cooper was of that time.
This short book simply shows how it used to be, having only one Bible story, and that of Moses as a baby, but with moral lessons throughout, beginning and ending with a patriotic theme, 1) the Flag, shown below, and ending with a child's rendering of Edward Everett Hale's famous tale of "A Man Without a Country" from the 1860s.)
Third, this lady ran her school in Memphis which was and still is Tennessee's largest city. But instead of running off to Cancun for summer vacation, she spent the summer in the east Tennessee hills of Knoxville, essentially to teach hillbillies. I know, I was one, and Knoxville, 125 miles away (almost four hours by car) was our idea of going to the big city in the 1950s. (They had a Sears store there, which was the only place Dad ever took us. And an A&W Root Beer Drive-in on the way home.) But East Tennessee was also the pioneer home of Tennessee. That was the Volunteer State's connection with the American Revolution and the Founding and why it was the 16th state admitted to the Union in 1796. It was the invention of the cotton gin in 1794 that caused the economic power of Tennessee to move to the Mississippi River side of the state, which built Memphis.
Being Appalachian, I knew it was not uncommon for our big-city brethren to send out not just religious, but cultural "missionaries" to spread a little culture. (Don't tell anyone, but Elvis had a bigger impact.)  But being in a coal town, we had an almost identical opinion of those backward slack-jawed, moon-shining, cob smokin' layabouts. My mother called them "heathens".
I hope I'm not imputing too much in this lady's intentions for spending her summer in East Tennessee, for she may just have gone to East Tennessee to get away from the mid-summer Mississippi River near heat…Knoxville was in the hills by her reckoning. Or maybe she liked fly-fishing, which is something else you can't do on the Mississippi. Or day hikes through the Smokies?
But to me it appears that Mabel Cooper was spending her summer in the Appalachians on what probably was a teaching endeavor by a patriot. Today, many people might consider that busy-body condescension. But I think not.
We need more of it.
(You may need to raise the Zoom a couple of clicks, to about 150%, to read this, and ask yourself if children can get this anywhere today.