You may not know this, but there really is an organization by this name. I looked it up and it traces itself to (where else?) Australia and WWII veterans.
I was a member for years and even carried around a membership card in my wallet, just to flash at the bar to start up a conversation.
I came to know this group because I was stationed at Ft Huachuca in Arizona on the Mexican border my last year in the Army, '75-'76. And the town of Tombstone, of OK Corral fame, was just a few miles away. And the Oriental Saloon was still a real live saloon in those days. I visited it many times.
On one of those occasions I saw a fellow standing outside the Oriental inviting people in and to come join the International Order of Old Bastards. I was just 31 at the time, and a more welcoming, convivial roomful of old bastards you never met. They had set up a table to sign up new members, where, for twenty bucks ($20) they issued me a card, and printed sheet of paper of what the IOOB stood for. There were no secret handshakes or call signals, like the Free Masons, although there was a phrase they used, which I can't recall since I never heard it or used it after that day.
I left the Army the next year but I did meet other Old Bastards along the way, only my bar-hopping days were nearly over. Except for an airport lounge, I haven't sat down at a bar in America in over 30 years. But I carried that card until it wore out. And the best news is that I never got a single annual report, nor re-subscription notice for more money. Ever. All in all a far more entertaining collaboration than anything I've ever received on Facebook.
But my purpose in introducing you to the IOOB (and I hope you're lucky enough to run into one) is their choice of an isolated town like Tombstone, off the main-track, to have a membership drive. I'll bet they got 50 new members that day, for the old Oriental was really hopping for a few hours that day. (I took my bride-to-be there in 2006 and it had been turned into Dollywood. Very sad.)
I've had a love affair with Tombstone since I was a kid…all because of that gunfight. I had seen all the "Tombstone-Earp" films; Henry Fonda as Wyatt Earp (where Walter Brennan improbably played Ike Clanton), Burt Lancaster and Kirk Douglas as Doc Holliday, even Stacy Keach as "Doc" in yet another twist in the Earp saga. On the night I met my first wife at a party, I had earlier been to see the 1967 version of the Earp story, with James Garner and Jason Robards as a 60-something dying philosopher-dentist; a moralizing piece of anti-war BS about a US marshal who wanted to revenge-kill a gang of murdering thugs after they'd killed one of his brothers. I won't even go into the 1994 Kevin Costner-as-Wyatt Earp nightmare, which I walked out on midway.
Hollywood had so twisted the Tombstone saga that its history and law-and-order morality was lost. For 50 years westerns were the original "morality" stories for young males; about how gangs will attempt to take over a town with guns and threats, and how some hero(es) must come from out of nowhere to at first kill them, then just only wound them, and later just turn them over to the court system. I'm certain that if kids wanted to return to westerns today Hollywood would either insert an adopted black step-brother for Wyatt, or maybe even a trans-gendered character, and Wyatt would arrest them all then send them of for counseling.
Of course, I've left one film out, which was released in 1993, but filmed before Bill Clinton came to town. It was a Reagan-Bush era film entitled "Tombstone", with Kurt Russell and Val Kilmer as Wyatt and Doc. Remarkably, it was historically accurate, all the way up to Wyatt leaving Tombstone after his federal posse had despatched "the Cowboys", who were a real organized-crime gang, then going away with the actress lady he'd met, ending up in Hollywood in the early days of silent movies, where we worked as a consultant. Hollywood's first great film cowboy star, Tom Mix, served as one of Wyatt's pallbearers when he died in 1929. (True)
I first wrote of this film because the first time I had seen it was in a black suburban theater, at the Saturday matinee, all male, and I was the only white guy there. But the kids still stood and cheered in the same places I did when Clint Eastwood said, "You feel lucky, punk?" That was almost 30 years ago. And those kids would be close to 40 now.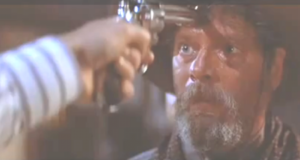 Also recommended, for other reasons, is the film "Wild Bunch", 1969, (Sam Peckinpah) which speaks to the lengths we must be willing to go to defeat this enemy, should they be unwilling to go quietly.
You can watch both films free on YouTube. Watch them with Antifa and the criminal gangs behind them in mind.