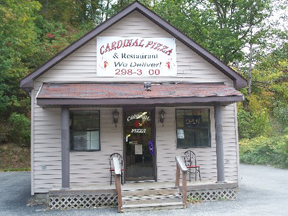 Rick Wilson's really poor affectation of hillbilly mannerisms and slang put me in mind of one of my fondest memories of my college days, a bar on the other side of Lexington, Kentucky where I went to university, 1964-1971, before going to Army for five years.
There was a war on then, so my private life didn't begin until 1976, when I was 31, and incidentally, also quit calling myself a "liberal", with the big "L".
I saw one of the last remaining Big-L liberals on television only Tuesday, when Alan Dershowitz made a full-throated defense of all those same rubes in America Wilson poked fun about. With a WASPy name like Wilson I figure his family has been in this country for several generations, so it's a little sad that Rick didn't pause to look down at some of those shoulders he's standing on, and notice that he was also peeing on them while yukking it up about tubes on Don Lemon's CNN show.
Just to set this straight, I was not offended by Wilson's comments. Not even the condescending spirit that drove him to say those things. I'd like to see more of it, in fact. Only more in public, and not hiding behind a Twitter account or secure corporate broadcasting set. The fear of the bloody nose, which my side of the track always seemed to be better able to administer than Rick's camp (and I was taught by the patron saint of all broken nose administrators, Mick Hensley) still rules vast amounts of territory in America. Geographically, about 80%.
You see, Hillary Clinton may have lost the 2016 election with a single word, "deplorable", unlocking a buried army of millions, she, her party, and pollsters, thought no longer existed, or at least were locked away in a mine shaft in Harlan County. With not a Russian among them.
In short, Rick Wilson was mocking his country's owners, while a true liberal, Alan Dershowitz certified that they (we), not Rick (nor Jonah Goldberg) are the reason the Constitution was written in the first place.
Ma Martin's
My university in Kentucky was at least half-urban and northern. That's because a kid from Massachusetts could get a degree at about half what it cost to pay in-state tuition. A deal. We even still had a Home Economics Department then, where the only real degree sought was a husband, and which the fraternity-sorority culture was designed to midwife.
But even in a state of country boys, hillbillies from the mountains of east Kentucky and West Virginia found rough sledding. Christopher Hitchens (RIP) once said about England that everyone carried his class around on the tip of his tongue. Double that for Appalachia. In Cincinnati, where thousands of Appalachians took jobs after high school, inner city black neighborhoods ranked higher on the social-scale than Appalachian enclaves like Hamilton, where my sister was born while my dad was storming ashore in North Africa..
I set up a law practice and consultancy there before moving to Virginia in 2000, and was so unique (educated) that a well known feminist professor at a local university undertook to study me for she'd never known an Appalachian who'd read a book, much less taught from one in a classroom.
So my kind tended to stick together in college, sharing rooms for $60/month, part time jobs (the college book store always hired one or two…I stayed for four years), and of course, going out drinking beer and chasing girls, since only one of us, out of seven or eight, had a car.
It was my senior year, still no car, that I heard about a joint called Ma Martin's way up on North Limestone, just a few blocks before you ran into New Circle Road (which circled the city).
They had live music on Wednesday, Friday and Saturday, and they played Blue Grass, not Country Music. This would have been summer, 1967, my senior year.
(This picture is only how Martin's Bar looked like on a dimly lit two-lane street on North Lime in Lexington in 1967. Same frame structure and porch.)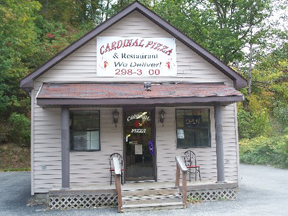 It had brick buildings on both sides and the railroad track was half a block away.
We first went on a Wednesday night, just as it began to get dark. A wooden sign was stood up on the porch that said "J D Crowe and the Kentucky Mountain Boys, Wed-Fri-Sat". Inside, the room was narrow and long, a bar on the left, four or five booths along the right wall, and small 4-chair tables that looked like they came out of a diner, with linoleum tops, covering the rest of the room. I recall a Fire Department sign on wall but can't remember what the maximum capacity was, only that it was less than a hundred.
When we arrived that first night, there might have been ten or twelve men there. Behind the bar was Ma Martin and a young man in a ball cap. Ma looked a lot like Jane Darwell a well known character actress from the 30s and 40s (Grapes of Wrath).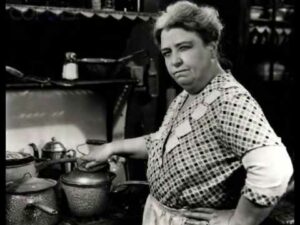 There wasn't any kitchen that I could see. Just a basket for potato chips. Not even a big pickle jar. And behind the bar was a big red Coca Cola cooler, with the lid removed, filled with ice, and loaded with long neck beer bottles protruding through the ice.
Only one brand was available. Pabst Blue Ribbon. Not even the high rollers could buy a Budweiser at Ma Martin's.
(Turns out one of the band members drove the Pabst Beer truck.)
Up front there was a stage, not more than 8-feet, and leaning against the wall was a big bass fiddle and an amplifier.
Slapping two quarters out and not expecting change, but getting it anyway, (a dime) we sat down to wait. A few more strode in, bought a beer…I never in all the times I went there, ever saw an employee walk to a table or booth to take an order. Even Johnny Cash had to belly up that Wednesday night he showed up, I was told. (A few Nashville stars actually came there, I was told, and they always came on Wednesday.)
Shortly, an older man, namd Phil, maybe 40, who I think was the one who drove the beer truck, came in with a guitar and proceeded to the stage, where he set up two microphones, hooking them up to the amplifier. He was the emcee and lead singer. Then came the rest of the "Kentucky Mountain Boys"; a man with a beard with a mandolin who they said was an associate professor of English at the university, a fellow named Jimmy who carried a fiddle and finally a thin gangly man, just turned 30 (from his Wiki bio) carrying a banjo. That was JD Crowe. They were all wearing street clothes.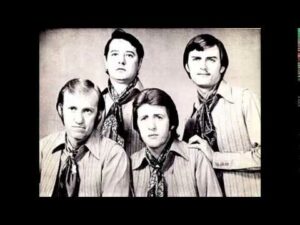 (This is from 1971, after JD had moved to a permanent show place. They even had uniforms.)
They lit up the room for about 4 hours. The room was full and noisy. There might have been a girl or two, I don't recall. And we stayed til closing time, which was midnight on weekdays. (They all had day jobs.)
Such sweet music, Rick Wilson. Sorry you never got to enjoy a thing like that. But someone in your family tree likely did. Most were standards; Cripple Creek, Foggy Mountain Breakdown, and all featured JD on his banjo. Jimmy got to do "Orange Blossom Special" on his fiddle which I eventually figured out was a rest tune for JD. There were a few ballads. But everyone came to hear JD Crowe and his banjo, who everyone said was second only to Earl Scruggs. (The internet seems to confirm that now.)
And I was paying only 40 cents a beer to watch this legend-in-the-making perform.
Of course next day I had to tell others of our new discovery. So on Saturday another chum offered his car and we decided to see what was hopping at Ma Martin's on the weekend.
You could barely get inside the door that night. And we had to park two blocks away in a not-so-inviting neighborhood. As much as I hate to say it, although Ma Martin wouldn't agree, Wednesdays were best for music lovers while Friday-Saturdays were great for revenue, since, just like the Apollo Theater in Harlem, it seemed an awful lot of Rick Wilson's social type went there to slum, including plenty of girls, even a few in unaccompanied pairs. (I tended to notice things like that in 1967.)
The room was standing room only, but with more of the same kind of people I saw at rush and frat parties on campus; guys with John Kerry haircuts, accents and up-turned noses, and also sorority girls wearing brand new store-bought Levis and plaid shirts, either trying to fit it, or maybe thinking it was a costume party. I even saw a red bandana tying up a Connie Francis coiffure.
It seemed like my romance with Ma Martin's lasted for years, but actually only about one, for I met my wife-to-be that same semester, even taking her to Martin's once, just to see if she chug down Blue Ribbon as quickly as their bar hounds could (she was good at one time). She liked Saturdays better than Wednesdays.
We were married in March of the following semester, just before I was commissioned, and we stopped going altogether after I started law school. But did follow J D (with a little bit of pride) as he left Martins, got an agent and formed a permanent band in '69 with regular gigs at a big paying club out on New Circle Rd, plus a recording contract.
What Rick Wilson and Ma Martin's reminded me of was the slumming nature of his type of social maven. While Bing and Satchmo may have enjoyed each others' company in Harlem, and the small businesses down there certainly enjoyed the extra cash, I doubt local Harlem residents liked rubbing elbows with the slummers there anymore than my caste did slumming with Ohio liberal arts juniors at Blue Grass joints—especially as the 60s slipped into the 70s, then 80s and so forth.
Today the slummers are odd man out and our world has returned to a kind of cultural equilibrium not seen for a generation. That's a good thing.
Laisser les bons temps rouller.