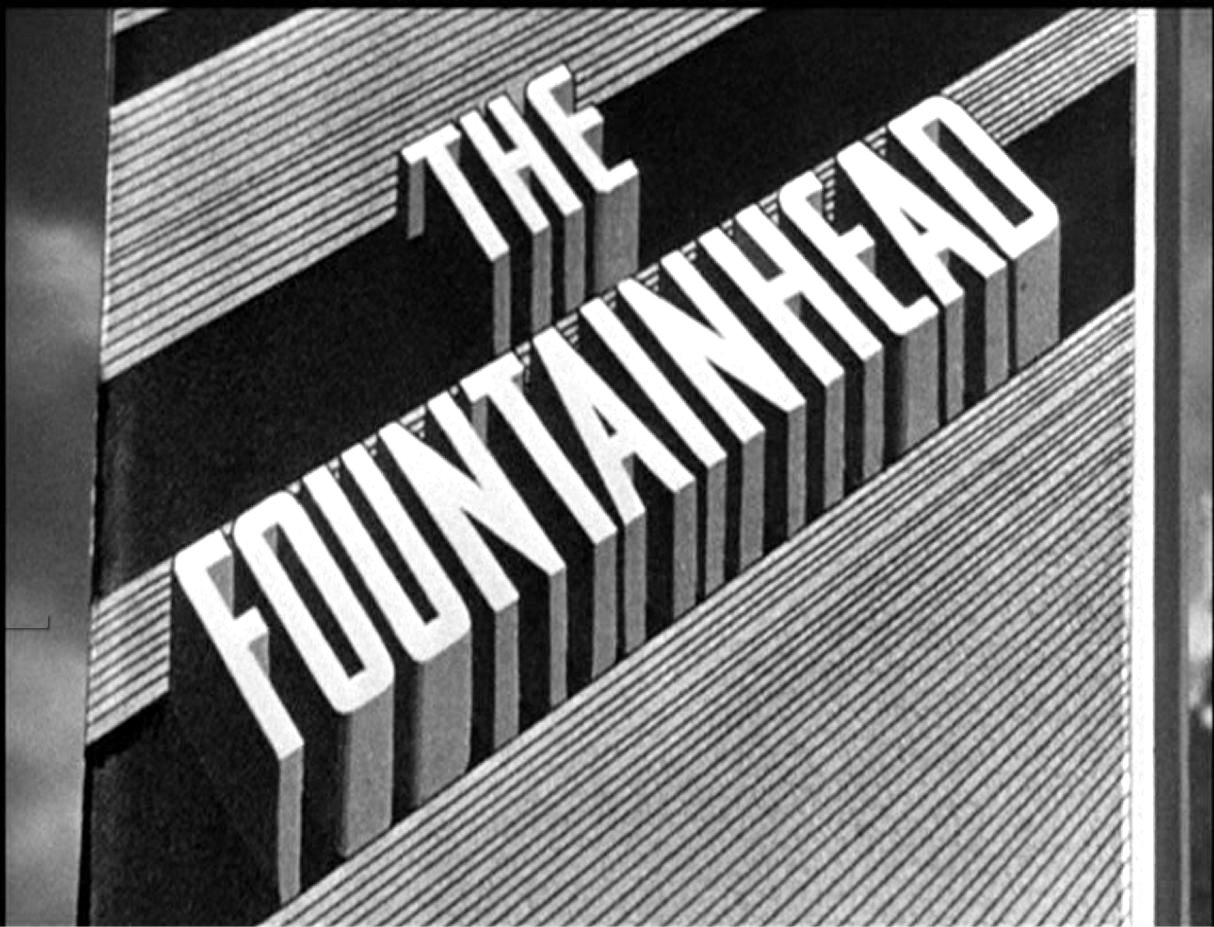 Again, I'm not Ayn Rand's biggest fan, but this speech by architect Howard Roark, on trial for having blown up a housing project he designed in New York when another architect changed his design, has great bearing about the modern media today and their supposed power to control tastes and public opinion.
I thought it was more powerful than "Atlas Shrugged" several years later.
Just 5:35 long, some of the excerpts, especially in this day of media using its power to destroy people through public opinion, noteworthy.
"Thousands of years ago, the first man discovered how to make fire. He was probably burned at the stake he had taught his brothers to light. He was considered an evildoer who had dealt with a demon mankind dreaded. But thereafter men had fire to keep them warm, to cook their food, to light their caves. He had left them a gift they had not conceived and he had lifted darkness off the earth. Centuries later, the first man invented the wheel. He was probably torn on the rack he had taught his brothers to build. He was considered a transgressor who ventured into forbidden territory. But thereafter, men could travel past any horizon. He had left them a gift they had not conceived and he had opened the roads of the world.
"That man, the unsubmissive and first, stands in the opening chapter of every legend mankind has recorded about its beginning. Prometheus was chained to a rock and torn by vultures—because he had stolen the fire of the gods. Adam was condemned to suffer—because he had eaten the fruit of the tree of knowledge. Whatever the legend, somewhere in the shadows of its memory mankind knew that its glory began with one and that that one paid for his courage.
"Throughout the centuries there were men who took first steps down new roads armed with nothing but their own vision. Their goals differed, but they all had this in common: that the step was first, the road new, the vision unborrowed, and the response they received—hatred.
"Man cannot survive except through his mind. He comes on earth unarmed. His brain is his only weapon. Animals obtain food by force. Man has no claws, no fangs, no horns, no great strength of muscle. He must plant his food or hunt it. To plant, he needs a process of thought. To hunt, he needs weapons, and to make weapons—a process of thought. From this simplest necessity to the highest religious abstraction, from the wheel to the skyscraper, everything we are and everything we have comes from a single attribute of man—the function of his reasoning mind.
"But the mind is an attribute of the individual. There is no such thing as a collective brain. There is no such thing as a collective thought. An agreement reached by a group of men is only a compromise or an average drawn upon many individual thoughts. It is a secondary consequence. The primary act—the process of reason—must be performed by each man alone. We can divide a meal among many men. We cannot digest it in a collective stomach. No man can use his lungs to breathe for another man. No man can use his brain to think for another. All the functions of body and spirit are private. They cannot be shared or transferred.
"We inherit the products of the thought of other men. We inherit the wheel. We make a cart. The cart becomes an automobile. The automobile becomes an airplane. But all through the process what we receive from others is only the end product of their thinking. The moving force is the creative faculty which takes this product as material, uses it and originates the next step. This creative faculty cannot be given or received, shared or borrowed. It belongs to single, individual men. That which it creates is the property of the creator. Men learn from one another. But all learning is only the exchange of material. No man can give another the capacity to think. Yet that capacity is our only means of survival.
"Nothing is given to man on earth. Everything he needs has to be produced. And here man faces his basic alternative: he can survive in only one of two ways—by the independent work of his own mind or as a parasite fed by the minds of others. The creator originates. The parasite borrows. The creator faces nature alone. The parasite faces nature through an intermediary.
"The creator's concern is the conquest of nature. The parasite's concern is the conquest of men.
"The creator lives for his work. He needs no other men. His primary goal is within himself. The parasite lives second-hand. He needs others. Others become his prime motive.
"The basic need of the creator is independence. The reasoning mind cannot work under any form of compulsion. It cannot be curbed, sacrificed or subordinated to any consideration whatsoever. It demands total independence in function and in motive. To a creator, all relations with men are secondary.
"The basic need of the second-hander is to secure his ties with men in order to be fed. He places relations first. He declares that man exists in order to serve others. He preaches altruism.
"No man can live for another. He cannot share his spirit just as he cannot share his body. But the second-hander has used altruism as a weapon of exploitation and reversed the base of mankind's moral principles. Men have been taught every precept that destroys the creator. Men have been taught dependence as a virtue.
"The man who attempts to live for others is a dependent. He is a parasite in motive and makes parasites of those he serves. The relationship produces nothing but mutual corruption. It is impossible in concept. The nearest approach to it in reality—the man who lives to serve others—is the slave. If physical slavery is repulsive, how much more repulsive is the concept of servility of the spirit? The conquered slave has a vestige of honor. He has the merit of having resisted and of considering his condition evil. But the man who enslaves himself voluntarily in the name of love is the basest of creatures. He degrades the dignity of man and he degrades the conception of love. But this is the essence of altruism.
"Men have been taught that the highest virtue is not to achieve, but to give. Yet one cannot give that which has not been created. Creation comes before distribution—or there will be nothing to distribute. The need of the creator comes before the need of any possible beneficiary. Yet we are taught to admire the second-hander who dispenses gifts he has not produced above the man who made the gifts possible. We praise an act of charity. We shrug at an act of achievement.
"No work is ever done collectively, by a majority decision. Every creative job is achieved under the guidance of a single individual thought. An architect requires a great many men to erect his building. But he does not ask them to vote on his design. They work together by free agreement and each is free in his proper function. An architect uses steel, glass, concrete, produced by others. But the materials remain just so much steel, glass and concrete until he touches them. What he does with them is his individual product and his individual property. This is the only pattern for proper co-operation among men.
"The 'common good' of a collective—a race, a class, a state—was the claim and justification of every tyranny ever established over men. Every major horror of history was committed in the name of an altruistic motive. Has any act of selfishness ever equaled the carnage perpetrated by disciples of altruism? Does the fault lie in men's hypocrisy or in the nature of the principle? The most dreadful butchers were the most sincere. They believed in the perfect society reached through the guillotine and the firing squad. Nobody questioned their right to murder since they were murdering for an altruistic purpose.
"Now, in our age, collectivism, the rule of the second-hander and second-rater, the ancient monster, has broken loose and is running amuck. It has brought men to a level of intellectual indecency never equaled on earth. It has reached a scale of horror without precedent. It has poisoned every mind. It has swallowed most of Europe. It is engulfing our country.
"I am an architect. I know what is to come by the principle on which it is built. We are approaching a world in which I cannot permit myself to live.