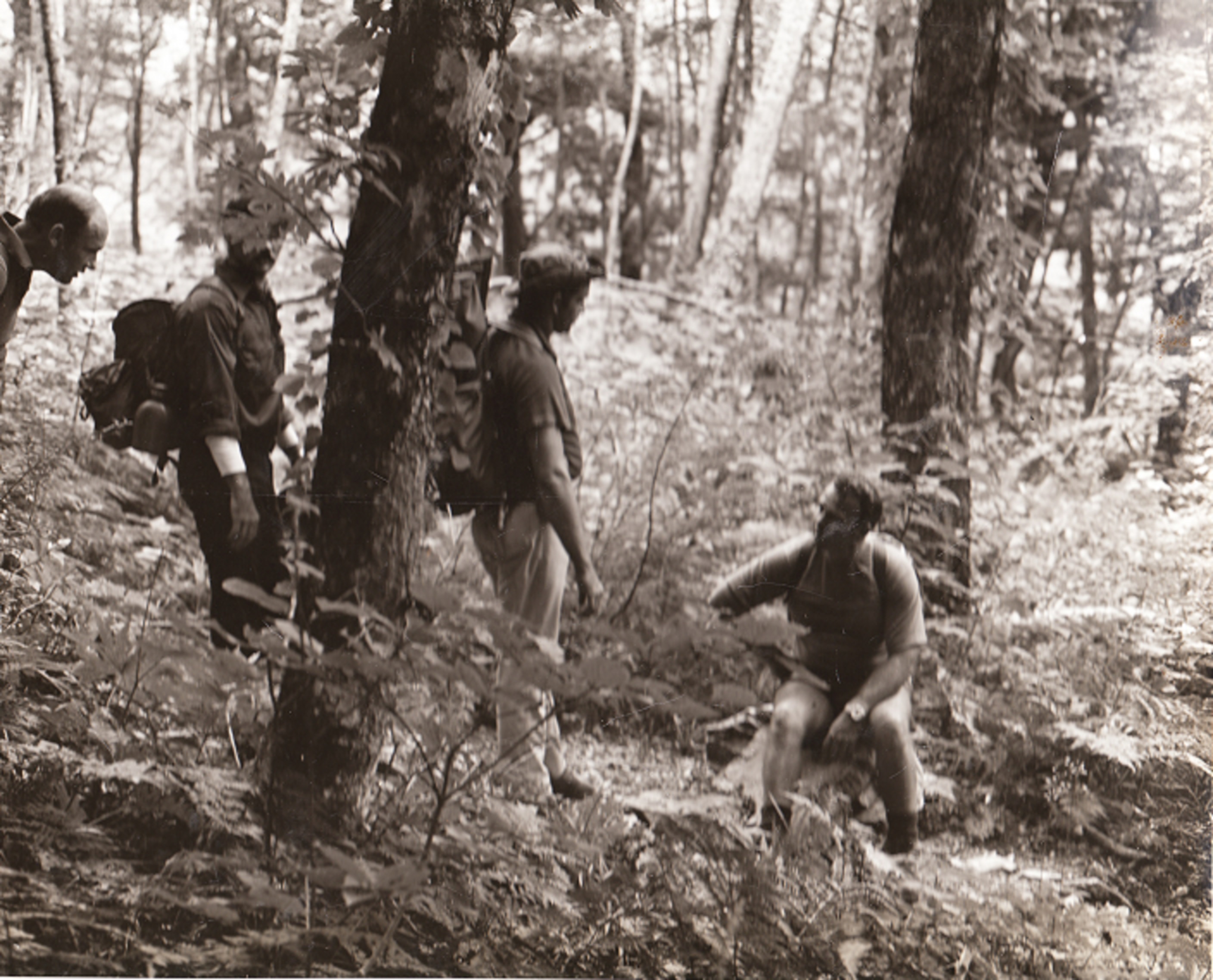 (Note: I wrote this a few days ago under the assumption Jefe was no longer able to correspond and eve have passed away. He wrote me yesterday from Hawaii he was just fine, Thank you, and to correct a couple of errors in my retelling of our last discussion in 1975. It is so amended.  Don't be surprised to see him writing a few stories here, his military career goes back to the 50s in east Germany.)
His real name is Richard McMahon and he is still alive, but at age 92 has crossed over, as his last letter to me in 2018 spelled out (below). I replied, but received no answer, so I think I can finish out his story, as it relates to our current discussion about the Intelligence Community and the Deep State, which goes all the way back to the Vietnam War and the big bug-out in Saigon, April, 1975.
You see, he was Col Richard McMahon then, and he was the Army's chief Intelligence officer in Vietnam at time of the fall of South Vietnam, and the last time we ever sat down to have a long discussion, was about those events..
I always called him, "Jefe" (Chief) and sometimes "Your O-Six-ellency".
When the time comes for me to sign out, and my own "Memory of Trees" remembrance is published, he will figure prominently.
My first duty station as a young Army JAG officer was HQ-US Army Japan, near Tokyo. I was the Chief of both Criminal Defense for nearly three years. You can read several of my more interesting adventures at VeteransTales.org, as Tokyo was a very interesting city in those days. We still had a small command center at McArthur's old headquarters in downtown Tokyo, which I visited monthly on my rounds. (Contributions are still welcome as we're trying to energize a Vets Teaching program for acquainting deprived teenagers with the shoulders they stand on just by being born American.)
Jefe was this major Army command's G2- Intelligence. He had been brought down from Hokkaido, Japan's northern island, where the military had a small listening post across the straits to the USSR.
One of his officer's, "Maj Guy" Daines, whose stories I share about a Soviet 'spy-bar' we frequented in Tokyo called Manos, was my closest neighbor in the housing compound, and my a very good friend for many years. (He passed away in 2015). Guy was Jefe's chief liaison with the Japanese Ground Self Defense Forces (JGSDF) and part of his job description was to escort senior Japanese military officials to Manos, the "spy-bar" in Tokyo. In short, part of his duties was to pimp, only you'll have to read the stories to see why those girls were way outside our pay grade, which my wife would never believe until Guy and I finally took them there to meet the girls themselves.
Maj Guy offered me a chance to sign onto one of Jefe's "Adventure Training" projects, which would be a 5-day long backpacking event in Japan's South Alps. This would be historical as the South Alps (within view of Fujiyama) were considered sacred and Gen Tojo, after the dictatorship took control of the government, closed them to foreign visitors. We would be the first foreigners to visit the area since the 1930s.
Being a master at publicity, Jefe also took along a staff writer-photographer from "Stars and Stripes". We were going to cross the crests of the of the four major mountains in the system, Aino Dake, Kita Dake, and Nishi Notoro Dake. (The last, Mt Yari, Jefe and I climbed alone.)
Having spent my life as a kid in the mountains of east Kentucky, I thought I was a natural for this trip. I'd been hoofing straight up mountains, sometimes just after school…coming in grabbing my dad's old Army rucksack and shelter half, throwing in a can of pork and beans, and putting on a pair of boots, kissing mom, then coming back the next day, after smoking an entire pack of Tarletons, then taking a shower. It was a regular Friday-night school year occurrence. Over the summer my treks sometimes lasted three days.
There were 11 in our group, all but the S&S photog senior in rank to me. I was also the only one who smoked. And never at altitude. Four of them had served in Germany and had done considerable hiking in the Alps. With gear to match. Me? I had never even seen a modern backpack with a frame before. Talk about uneducated. I carried a Vietnam field pack, and borrowed a sleeping bag and canteen.
Our plan was to spend the nights in huts, which, I was told by the experienced climbers were what all the European alpine trekkers did, for it reduced the weight of heavy tents, and all that food (which were mostly in cans in those days) as the huts also provided hot tea, misu soup, and jerky beef or squid.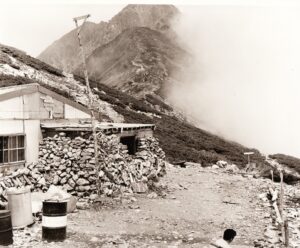 It was a life-changing event for me, especially the vistas. (Stars and Stripes were good enough to give us all a set of photos.) I would later start my own canoe and trekking business, and climb mountains on two more continents, my last climb in 2006.
And Jefe and I would be become steadfast friends until he fell off the grid in 2018. I've kept his last letter  (below).
In 1974 Jefe was sent TDY from our command in Japan to become the Army attache in South Vietnam. Officially he was still carried on the rolls as the G2 of US Army Japan. That fall, I got a call from Jefe in Saigon, saying he'd be home for a brief R&R and he wanted to mark that last mountain in the South Alps, Mt Yari, off the list.
A 4-hour drive, we started our climb (2-3 miles, straight up) late morning, stopping at the hut, about 2000 feet below the summit. It was standard for climbers to spend the night there, make the final ascent in the AM, then return to the hut for another night, then walk down.
Late that night we were hit with a monsoon. A violent storm at 8,000 feet. Next morning it hadn't subsided so we spent the day drinking Kirin Beer and eating sushi and mizu-shiru soup with lentils, getting very drunk and speaking of many things. It was late season and only four or five climbers remained, all Japanese. No one knew the words to "Polly-waddle-doddle-all-the-day", but they sure tried hard.
Jefe had to get back to Saigon, so he decided it would be best next AM to go back down the trail. The rutted trail, about 8″ deep, bare rocks and dirt, had all turned to mud, and Jefe took a tumble. While he "G-d'ed, M-f'ed" I probed for a fracture on his ankle, hoping it was a sprain. I tried to fashion a splint, but he still couldn't put any weight on it, so I just piggy-backed Jefe one very sure-footed, one slow step at a time, holding his pack in my left hand and walking stick in my right. Less than two miles, it felt like ten.
It was after 10 before we got back to Zama, and I took Jefe straight to Army hospital, where we called our wives.
Saigon fell the following April and Jefe was in the middle of the dust up as to why.  He had gone to Vietnam hoping for a star, but filed for retirement as soon as he got back. We talked a little about it over dinner. He didn't go into details then, but I knew something had gone wrong there. The blame game.) There was that famous C-5 crash out of Ton Son Nhut where 111 children, 35 civilians (from his staff) and 11 Air Force personnel died on that Operation Babylift mission.
Jefe bought a house in Kailua, on the windward side of Oahu, and I visited there twice as I had the good luck to defend an Army deserter case at Ft Shafter. The first visit was just for the preliminary hearing, two hours, so I took my wife along, and we stayed with Jefe and Ann, went to a string of first run movies in two days, and my wife could walk down the street about 50 yards to sit under a palm and enjoy the beach while I was in court.
Then came the trial and I was back for three days, again staying with Jefe instead of walking around the living museum that was Ft Shafter, which the Japanese had strafed pretty well just 24 years earlier. Bullet holes everywhere..
Finally, I shipped out of Japan, en route to a new assignment in Arizona, and Jefe asked us (there were four of us by then) to spend three days with them, only, instead of his house, he had arranged for us to stay at one of the beach bungalows at Bellows Air Force base that had been used by the astronauts after coming back.
We had a farewell cookout (the last time I ever talked with him face-to-face), but while the ladies played with the kids, Jefe and I sat outside under the palms, discussing legal things.
You see, Jefe was a writer, and would go onto a fine career as both a travel/backcountry writer as well as novelist. But it only was a hobby then. He considered me his lawyer, I gave him advice on property, all sorts of things, and was very angry about the way the DoD and Army had treated him.
The official word from Washington was that our failure in Vietnam in that last year was a failure in intelligence, not just about the Communist Vietnamese capabilities, but in the shortcomings of the RVN forces who we turned military operations over to under the Paris Peace Accords.
Since we're discussing our current political deep state elsewhere, I'll save Jefe's first-hand observations in a follow-up soon, but suffice it to say that his quick retirement was because he knew the official Washington position would be that we lost Vietnam because of poor intelligence sent back about the fighting ability of RVN forces.
His reports proved otherwise.
I know a hundred times more today than I knew then, I was just turning 30, but Jefe stated that he'd been sending back reports weekly about the failing quality of RVN Army. And also said he couldn't account for the millions of dollars we were giving them, since they didn't show up in training or equipment. He even mentioned Frank Snepp, a CIA desk agent who would write a best-selling "whistleblower" account of the fall in 1977, but was known to Jefe in '75. He didn't think much of him. (Snepp was close to my age.)
(It would not be until another Pentagon Army friend invited me to a swank Vietnamese restaurant in Fairfax in the early 80s that I would begin to understand what had happened to all that money. It was owned by a senior RVN general.)
I'll discuss this in greater detail soon, but my advice to Jefe was simple. "Your reports proves DoD is lying about not being forewarned. Bottom line, if you publish this they can call you back to active duty, then court-martial you. My advice, don't publish it until you pass away."
He harrumphed and cussed, but in the end he took a job for a few years as a consultant, and I never heard from him again until the early 80s, when I was in industry. He learned my whereabouts from Maj Guy, and by then was doing what he always wanted to do. Write. He'd joined up with Mountain Travel and REI to lead "adventure treks" in Hawaii, and worldwide. He then began writing guide books for adventurers, as well as a series of novels, all available at Amazon.com. A really nice list.
A really great man.
Jefe's last message (excerpted) July 4, 2018:
"I have trouble walking (balance, light-headedness), and tire easily. Doctors want me to use a walker to keep from falling, but screw that, although I do take a cane along if I leave the house.
 I could kick off tomorrow, or live for another ten years. My memory is not good, so I'd enjoy hearing (or re-hearing) about your status.
PS – Don't feel sorry for me. I've had 90+ good years."
Take Care,
Jefe