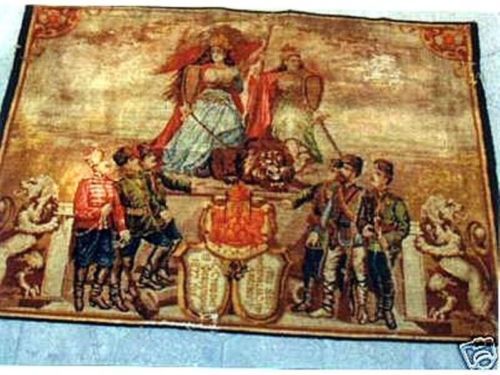 Alexander Battenberg of Hesse, (Germany) was "appointed" the first Tsar of Bulgaria by the Council of Berlin after the Russian monarchy had helped the Bulgarians achieve their independence from the Ottoman Turks.

The state of Bulgaria was created in 1879 by  the Treaty of San Stefano, which was signed by Russia (who came to Bulgaria's assistance) and Turkey, ending the Russo-Turkish War, 1878-79.
But the Council of Berlin, under the hegemony of the Prussians and House of Hohenzollern (Kaisar Wilhem I) half the Bulgarian state won by this Treaty was stripped away by the major European Powers, appointed Alexander kingship over half of Bulgaria.
In 1885 Alexander reclaimed the rest of Bulgaria with the Plovdiv Accords, which this tapestry commemorates, including a small war with Serbia.
Standard Balkan stuff.
This tapestry commemorates that event, and (I'm told), only seven were made (by a company in Vienna) as Bulgaria was not allowed to be a signatory to the Treaty of San Stefano.
I acquired this in Bulgaria about 25 years ago from a dealer-friend connected to some of the old pre-communist royal families of Bulgaria. Almost no post-Communist in Bulgaria knew their first Royal House, the Battenbergs, would become the Mountbatten's of England at the outbreak of World War I, because of a general dislike of Kaiser Wilhem II, who caused much of World War I, but also a familial relationship with the English royal houses.
Alexander Battenberg's brother, Louis, would marry the granddaughter of Queen Victoria, and would later become the father of Lord Louis Mountbatten, Supreme Commander of Allied Forces in South East Asia in World War II, and the last Viceroy of India. His brother would become Prince Phillip Mountbatten, husband of Queen Elizabeth II, great -grandparents, to Archie Mountbatten-Windsor, new son of Prince Harry and Meghan Markle, Duke and Duchess of Sussex, only born recently.
This tapestry hung in my gallery in Virginia until 2005, when I had to close it due to family illness and it commemorates both the 1877 Treaty of San Stefano  and 1884 Plovdiv Accords, in Cyrillic.
DESCRIPTION
Approx 74″ x 54″, the piece had hung in my art gallery for several years until 2004. Made in Vienna by a company Z & AX & Co, which I can find nothing about, the piece is intact, has never been cleaned, but still bold in color, slight fraying around the edges, and with an approx. 5″ worn, thin spot in upper right quadrant, with exposed threads. (More pics are available on request.)
I recommend the buyer to see this first hand, or send an agent.
I can be contacted through email at Tektrans@msn.com, or Twitter, @BushmillsVassar
Terms: Payment can be Paypal or bank letter of credit. I can ship but only after payment process has been completed and confirmed, BUT I would suggest buyer to pick up (at least by agent) so inspection can be made on site. Buyer will still have 21 days to return for refund.
Price; F.o.b. my location, Chester, VA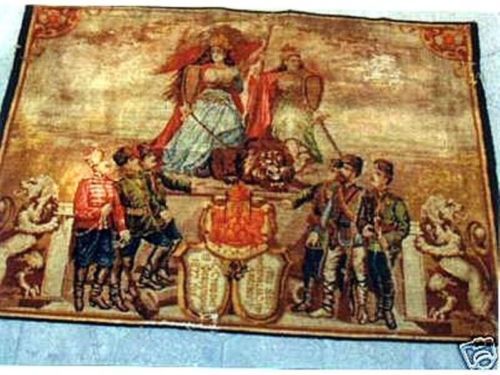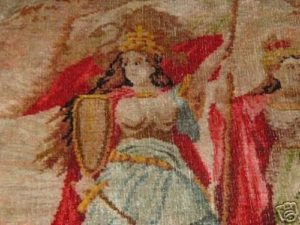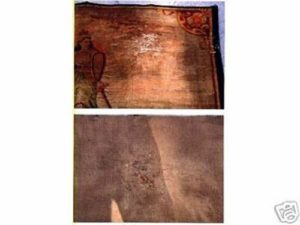 The thin spot, 5″.
This piece was acquired through a family member, the aide de camp to the succeeding Tsar of Bulgaria, Boris, who died it World War II. I paid a lot for it in 1998, and believe it would be make a very nice charitable gift in the $25,000 + range to either an historical museum. Or perhaps the Mountbatten family would be interested.