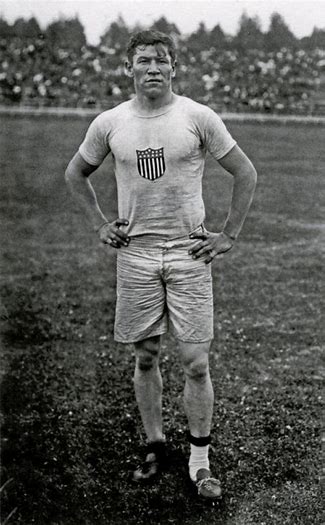 (h/t Paul Dughi, Sports Raid, June 2016)
Jim Thorpe was a Native American Indian of the Sac and Fox nation in Oklahoma. in the early 1900's, an orphan, he went to the Carlisle Indian School in Pennsylvania and made up one half of the school's entire track team, which competed among some well known colleges. He also played football, (they beat Harvard) and was selected to be on the 1912 US Olympic Team in Stockholm.
He competed in both the pentathlon and decathlon, first winning the pentathlon. Then, after someone stole his shoes right before he was set to compete in the decathlon, he found two mismatched shoes in a trash can.They were different sizes, though, so he had to wear extra socks on one foot to even them out.
He went on to win his second Gold medal.
After Carlisle he went onto play professional football for 11 years, was a consensus All-American football player two years, 1911-1912, 1st Team all-pro, 1923, NFL All-Decade Pro Team, to go along with his two Gold Medals was voted the greatest American athlete of the 20th Century.
He died in 1953 at age 64, which was 2 years before recent notable Indian, Nathan Philips was born, and who is also 64 years old, only with no notable accomplishments other than having shared a tour to Vietnam with Sen Richard Blumenthal of Connecticut.
Stolen valor.
Hoka Hey!
(That's all.)