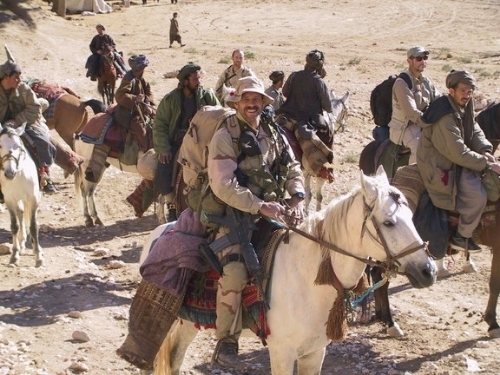 I'm sure someone has mentioned this already, but I was thumbing through a stack of books and came across a 2009 book by Doug Stanton about the soldiers who first went into Afghanistan in advance of the air campaign to remove the Taliban from power if Afghanistan. The book is Horse Soldiers, The Extraordinary Story of a Band of US Soldiers who Rose to Victory in Afghanistan. Give it a read.
I'm sure most of you have forgotten some of those battles in the early days, but as with Iraq today, the "boots on the ground' were the rebel Northern Alliance who had been fighting Taliban for several years, and controlled much of Afghanistan's northern provinces. We inserted units from the Army's 5th Special Forces group, some Special Operations Command units and CIA's Special Activities Division.
They weren't just spotters for aircraft, and were instrumental in retaking Mazar-I-Sharif in the nortern part of the country. These soldiers were our boots on the ground only they were on horseback. They were out Hoofs on the ground. And for the first few months of the Afghanistan War, they were all we had in-country.
So yes, it can be done, if there is still a will to do it. I am sure Army planners have plans stacked to the ceiling, already, just waiting for the authorization.
Just a thought.