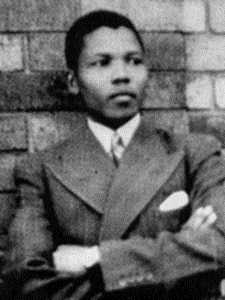 Nelson Mandela was a communist. At least until he walked up to the batter's box, picked up the bat and hit the first pitch into the grandstands.
I'll get to Shep Smith and Fox News in a second, but a local radio talk show guy, in his thirties, tried to speak of Mandela with a familiarity he just couldn't claim, by saying that Mandela had once been a "hard socialist."
No, he was a communist, and his party, the African National Congress, worked hand in glove with the communists to overthrow the South African apartheid government. And he helped forge the terror wing of that party, blowing up stuff, killing a few people, and then in 1962 was sentenced to life imprisonment for what amounted to trying to overthrow the government. What is missing from these latter-day reminiscences in the fact of his imprisonment is first, he was guilty as charged, and second, for several years before his eventual release in 1990, Mandela was offered parole many times, if he would only renounce violence. He refused.
For many years in the 1980s there was a big "Free Nelson Mandela" campaign going on in
the West. Even though no one had seen him, or heard him speak, he had become a cause celebre, created mostly by communists and leftwing forces in the West, with some ulterior political agenda in mind. Of course the arts and croissant crowd rushed in. Benefits, parties, concerts. Paul Simon's Graceland album, 1986, one of the finest musical albums ever produced in that era, and whch introduced America to the unique South African music, was also a great video (for you youngsters), from his Free Nelson Mandela concert held in nearby Zimbabwe. You should see it.
Since Nelson was stewing in jail, I'm not sure anyone knows what happened to all that money they raised, except maybe to pay off wife Winnie's little gangs of thugs who went around "necklacing" opponents of the ANC in Soweto and other black townships. (Necklacing is a practice of putting a rubber tire around someone's neck, then setting it afire. It was all the rage for awhile, and Winnie was never prosecuted, although Nelson dumped her after he got out of jail.
Mandela's fame also grew among the mainstream, as many people not of the left also felt an antipathy for apartheid. It reminded those old enough to remember of Jim Crow in the American South.
But a funny thing happened on the way out of jail when an unrepentant Nelson Mandela was released in 1990, at age 71. Along with the prison uniform he discarded on the prison floor, it seems he also left his communism and his thirst for violence on the floor beside it, thus denying the leftist provocateurs who made him famous in the first place their agenda victory.
Almost immediately Mandela became a statesman and father of his country, peacefully forging an end of apartheid and the white South-African government, then forming the new truly African nation formed in 1994. He was it's first president.
South Africa is still free, and still a good economy, but not as strong as it once was. But neither is it a basket case, as Zimbabwe and most of the rest of Africa have become. Mandela's charisma and magnetism, to the extent it wasn't manufactured by a fawning western press, really didn't extend much beyond South Africa's borders. No black Simon Bolivar, Mandela was a father of his country, like Jomo Kenyatta, not the father of a new continent, or the daddy Bill Clinton never had.
The best thing I can say about Nelson Mandela is that I liked him because he grew old with grace and dignity, and turned his back on communism and terrorism. His greatest achievement was to deny his international communist benefactors what they most wanted from him.
And I am not praising Mandel here with faint damns, for I try to imagine today how I could end up in jail on the same charge of trying to overthrow a criminal regime, and then being asked to renounce mass rolled-up-newspaper swatting as a way to achieve my political ends. I can empathize with Mandela a little, just as I can, if I were a hungry kid in Sinaloa, about whose border it would be I'd try to sneak across to find work.
The Processional from Hell
So gag me with a spoon when I heard Shep Smith interrupt Fox News yesterday at 5 PM, to a chorus line of Dana Perino and the predictable Bob Beckel, telling us of the greatness of this man in almost biblical terms; how he walked on water, and parted the Kalahari sands by thumping a baobab tree with a walking stick, how he cured Botswana of leprosy with a simple wave of the hand, Basutoland of the hives with a smile, and Zimbabwe of chronic stupidity with a simple, "There, there now"…and then how they once got to touch a hem of his garment.
Then Bill Clinton released a statement on behalf of his family and his common-law harem, all just grief stricken at the passing of one of history's great pillars. Jimmy Carter chimed in. So far, all the comments have been about the speakers themselves, which small people tend to do, creating a larger-than-life image of a good man just so they can bask in the reflected glow of a demi-god they helped erect, to be a reflection of themselves.
I'm sure Elton John and the usual funerary entourage will find a way to horn their way into the state ceremonies in Johannesburg. NBC is probably negotiating televising the ceremonies live, with Bob Costas on hand to emcee the processional, and to compare Mandela's apartheid with the fate of the woeful, native American in Fed-Ex Stadium. Treated like a Hollywood opening, Jesse will find his way there, as will Al Sharpton and Calypso Louis. Brad Pitt, De Caprio, Penn, Streisand will all jet in, the usual suspects elbowing out of the way all the regular people in South Africa who were genuinely touched by this man and grateful that he had lived. For the sake of airport security I suggest the Hollywood and London crowds chip in to charter a flight and fly together, because the last time de Caprio went to South Africa, to a soccer match I think, they backed air traffic up so badly to put him first in line that thousands of ticket holders to the match missed it altogether. I've already told my YMCA that if they run the flag down to half-mast on orders from Washington, I'm taking it down and hiding it until this outbreak of madness is over.
As I said, I liked Nelson Mandela. I like people who can repent of bad ways, even if only by changing their way of doing things. I also like people who can walk into a job cold then measure up to it, a thing no Democrat has done in America since Harry Truman.
In the 20-odd years since Nelson Mandela was released from prison I've probably thought more good thoughts about the man than all the Americans who will attend his funeral later this month combined. I'm not just a fan, but a fan of his country. So rest in peace, Nelson, for after this month, there will be no one to bother your bones, or take your name in vain. You will finally belong to your people, which is what you always wanted.