An old friend of mine has retired due to health reasons and has donated his entire antique and book inventory to VeterandsTales.org and our No Greater Love 15:134 Foundation.
It's worth several thousand dollars, and all we have to do is bring buyers to eBay.
We could sure use even a part of that money, as we're in the hole a little bit now.
As of this weekend, ALL the items have been reduced in price by half or more, to facilitate quick sale.
I met Pete when I moved to Richmond in 2000. He had a antique store, where he allowed me to display a lot of the historical items I brought from the old Soviet Bloc. He closed the store when his youngest son was diagnosed with cancer.
But he's since maintained a good internet sales book business, all of which is available at the DesertPete4 sales site at eBay.com
Items you may be most interested in will be the many books, mostly non-fiction, military and political, quite a few bundled (Third Reich, Lincoln, Civil War, American History and Biographies,) as well as some really classical pieces, 18th and 17th Century, old religious texts, even Latin.
$10.00!
All the military and historic items imported by me, a lot of military and Soviet Bloc political posters, some iconic, such as the RPG training posters, several art sets, Lenin wall plaques and medallions, M-62 tank, trophies, military photos, and some extraordinary political paper. (Pete still has over 100 military posters that he hadn't photographed. I'll do that later this Fall.)
Of course, there's the Tapestry of the Treaty of San Stefano in 1878, which ended the Russo-Turkish War, and which freed Bulgaria. It was made in Vienna for the Battenberg ruler of Bulgaria, who would later move to England to become the Mountbatten's, one of whom would become Supreme Allied Commander of Southeast Asia and the last Viceroy of India, and another would marry QE 2. (Prince Philip).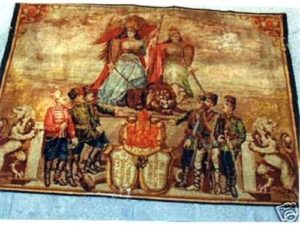 Just go see what strikes your fancy.
Everything must go, and we need the money and Pete needs to clean out his storage unit..
Just go to eBay.com and follow the easy instructions, below.
Just note that the eBay listing are open to the whole world. So, if you learned of the offering here, just let me know at VBushmills@yahoo.com and I'll make sure the shipping and packing are facilitated. We're not that many miles apart.
How to Find the Books and Collectibles of DesertPete4
Go to eBay.com
At the top, there is a SEARCH bar. At the far right in small print is Search, click that
At the top left, Click FIND ITEM….By Seller
At the Top, underneath SELLERS, Check ONLY SHOW ITEMS FROM: then type in Desertpete4
It will immediately call up the ENTIRE INVENTORY, (currently 140 items, Books and Collectibles)  Pete tells me he has cut the prices at least in half.